Get started with the TRIB3 Connected Experience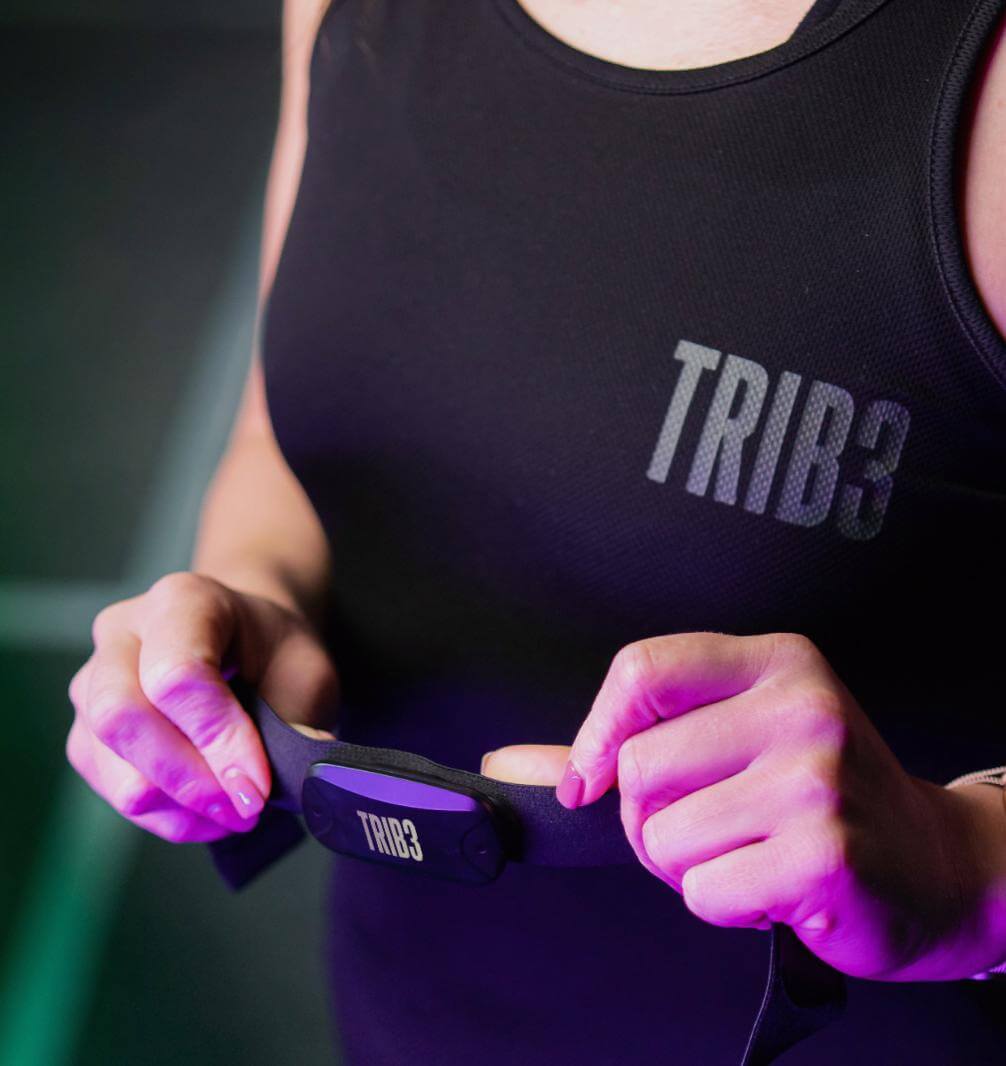 One of the most important measures of an awesome TRIB3 workout is your heart-rate and how you move through different heart-rate zones during the session. Here's everything you need to know.
The TRIB3 workout is designed to challenge your body at the right intensity and promote maximum after-burn. When you take part in our High Intensity Interval workouts we know how important it is to track your heart-rate and monitor how you move through different heart-rate zones throughout your session. That's why we have developed a unique heart-rate system to reward you based on your effort levels.
Set your own limits and earn while you burn
Our workouts will consist of High Intensity Intervals and strength training combinations to keep your heart rate elevated for much of the session but you can choose to exercise at your chosen intensity.
At TRIB3 we measure your heart-rate in four zones with a focus on the active zones: blue, gold (SWEAT) and red. However, we encourage all TRIB3Rs, where possible, to aim for 80% – 92% of their maximum heart-rate, otherwise known as the SWEAT Zone. We encourage all TRIB3Rs to spend at least fifteen minutes or more in the SWEAT Zone, but every minute in each of the three active zones is rewarded with SWEAT Points.
Whether you are working out at home or in-studio, the SWEAT BAND 1.0 will allow you track your progress bar within the app and through our in-studio displays for every second you spend in each zone and award you with the coveted SWEAT medal to celebrate your personal achievement. Don't forget you are awarded points for each minute you spend over 50% maximum heart-rate.
Get the most out of your connectivity
The SWEAT app connects seamlessly with the SWEAT BAND 1.0 allowing you to train anytime, anywhere and still be able to track all your personal achievements. However, if you are training outdoors and plan on tracking your heart-rate 10m away from your phone or tablet, we recommend not using the SWEAT app for these workouts. The SWEAT BAND 1.0 has 12 hours of memory built-in and we recommend using the memory rather than tracking through the app.
At the end of your workout, open your SWEAT app before removing your SWEAT BAND 1.0 and your workout data will sync seamlessly to your device as soon as the heart rate monitor connects.
Here are our top tips to optimise your SWEAT app experience:
Disable the auto-lock feature on your screen through your phone or tablet's general settings to ensure your SWEAT app is always visible unless manually locked.
When tracking your workout in the SWEAT app, ensure you have a constant stable WiFi, 4G or 3G connection. An intermittent signal may cause your workout to end prematurely.
Don't forget to disconnect the plastic transmitter pod when your SWEAT BAND 1.0 is not in use as this will maximise the battery life.
Always ensure your Bluetooth is enabled, otherwise the SWEAT BAND will not connect to your device.
If you are running or training more than 10m from your phone or tablet, we recommend not using the SWEAT app's START SESSION function. Instead you should use the built-in SWEAT BAND 1.0 memory and open your SWEAT app post-workout to sync the data into the app.
Our most connected workout experience is here. Find out more.
Click here for other frequently asked questions.