Be part of the #OneTRIB3 Movement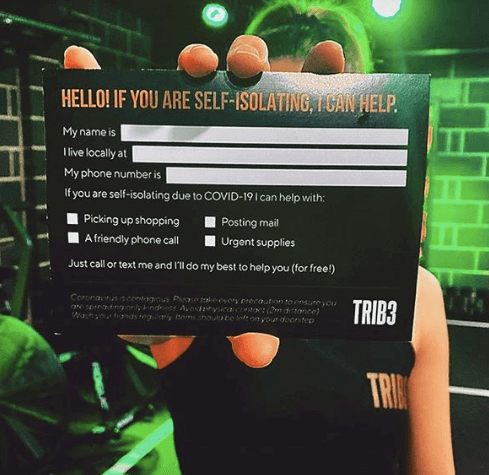 We have been inspired by the way communities across the globe have come together to support each other and those most in need during the current health crisis with COVID-19. That's why we are proud to launch our #OneTRIB3 community group which invites our team, our TRIB3Rs and every one of you to join up and suggest causes we can support in our communities. We fell in love with these support cards that were created in the wake of the crisis for those self-isolating and most in-need. We've therefore created a TRIB3 Kindness Card which you can post through letter boxes in the community so if people need us they can reach out.
These cards will be freely available to any volunteers and can be safely collected from the leaflet holders which are located just outside of our UK stores. All you have to do is fill in your contact details and distribute them to anyone you think might need any assistance.
TRIB3 is also offering at-home and live-streamed workouts daily for everyone to get involved with to ensure we can all stay healthy and active during these extraordinary times. All you need to do is follow us on Instagram to follow along with TRIB3 at Home live or you can visit to download the workout of the day. There are regressions available for each workout so if you have an older relative or someone managing an injury, they can still get involved.
CEO Kevin Yates says: 'Community sits at the very heart of the TRIB3 brand so I am so inspired to see our teams and TRIB3Rs getting behind our #OneTRIB3 community initiatives. We recognise what a difficult and uncertain time this is for all so seeing everyone come together to support those most in-need is really inspirational. We encourage anyone to join the group and share your ideas on how we can continue to support these great causes.'
In the face of such uncertain times, we are strongest when together. We'll continue to navigate this difficult period but with your support we can continue to grow our TRIB3 and promote kindness, worldwide.
Your TRIB3 family